SASCO Travel launched the biggest tour to Phu Quoc island
SASCO Travel launched the biggest tour to Phu Quoc island
After more than a month of preparation, on June 29th, SASCO Travel started the biggest tour to Phu Quoc with more than 5,000 employees of Phu Nhuan Jewelry Joint Stock Company (PNJ).
Phu Quoc island – the pearl of Vietnam
Phu Quoc – "Pearl Island" of Vietnam is proud to be always at the top of the most attractive tourist destinations in the world with crystal clear blue beaches, long stretches of white sand, ancient forests intact wild beauty preliminary.
In 2019 alone, Phu Quoc was voted by the CNN website: Top 30 most beautiful destinations in Vietnam, the place that deserves to rest on the world or the best tourist destinations in Asia. The Pearl Island of Vietnam is honored to be one of the names at the top of the list.
Immediately after the Covid-19 epidemic was controlled in Vietnam and the Government canceled the social distancing policy, Phu Quoc tourism recovered quickly. Phu Quoc cooperated with the Department of Tourism, Tourism Associations, and travel companies to unify many action programs to stimulate domestic tourism demand so that Phu Quoc will continue to be an attractive and safe destination for travelers.
Attractive Phu Quoc Tour
Responding to the program "Vietnamese people travel to Vietnam", SASCO Travel, a subsidiary of SASCO, has offered many attractive summer tours with preferential prices. Especially, SASCO Travel Free & Easy tours to Phu Quoc and Con Dao islands are being chosen by many domestic tourists for this summer vacation.
SASCO Travel held the biggest tour to Phu Quoc for PNJ Company with more than 5,000 employees participating in 5 consecutive times from June 29 to July 15, 2020.
Mr. Bui Tuong Chi, Head of SASCO Travel shared: "Held a tour for 5,000 employees in a short time is great pressure for all travel companies. Being the largest airport commercial service company in Vietnam, SASCO has taken advantage of the aviation and cooperated with experienced partners such as Vietnam Airlines and 5-star resort Radisson Blu Phu Quoc to design this tour"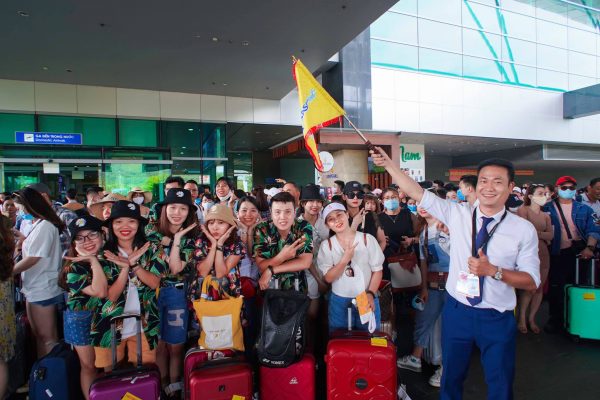 As the organizer, this biggest domestic tour is both a challenge but also an opportunity for SASCO Travel to demonstrate its capacity to organize and operate corporate tour groups with a large scale
Pho Quoc 3D2N – Relax and experience 5-star amenities
Specifically, during the 3- day – 2- night journey to Phu Quoc Island, tourists are supported with quick airport procedures. Tourists can visit famous landscapes and craft villages in Phu Quoc; relax and experience the utility of Radisson Blu Resort Phu Quoc. Besides, it is team building activities, gala dinner, and impressive acoustic music night. Besides, SASCO TRAVEL connects service providers to create opportunities for tourists to visit and have fun at the leading theme parks of Vinwonders, Safari with preferential fares.
Tourists experience tourism activities, resorts, and corporate culture
With the staff of SASCO TRAVEL, serving tourists on travel trips, exploring along with the country, contributing to the success of team-building journeys, connecting the meaningful corporate culture of Collaboration is also a great experience.
In the context of tourism seriously affected by Covid-19, the number of international visitors declined. But if you look positively, this is an opportunity to bring benefits to Vietnamese people to explore the country's beauty to experience high-end services at reasonable prices. That is also the direction that SASCO Travel is implementing for tourism products. Thereby contributing to warm up the domestic tourism market which is expected to be active this summer.
Follow the latest SASCO Travel information at https://www.facebook.com/SASCOTravel